Top Vape Juice Wholesale Stores Online (Updated 2023)
11th Apr 2023
>
Finding the best deals on wholesale vape juice has always been a top priority. That's why we've built our shop, so you'll never have to search for such desirable deals. They'll be here already.



Best Vape Juice Wholesale Stores Online
Our Best Vape Juice Wholesale Deals
Our selection includes many of the world's tastiest brands, new and old. Now, you'll have a central repository where the best deals reside like lions in their dens. Check out some of the menthol flavors that we have available below, unless fruits are more your style. We aggragated what we saw as the best menthol flavors that companies and consumers all over the world and online are purchasing. Featuring the top pics from Naked 100, Twisted Eliquids & Vape Craft Inc.
Berry (Very Cool) - Naked 100 Menthol E Liquid
Naked 100 Menthol combines fruit with the tingling sparks of a menthol cigarette, refreshing yet sharp. We've had many juices, but none of them lit up our minds quite like this.


Product Specifications


- Raspberry, Blueberry, Blackberry, Menthol:
Berries blended together, menthol undertones build after you've exhaled, becoming stronger with time. Eventually, those menthol notes dominate the palette.


- PG/VG: 30/70:
Propylene glycol and vegetable glycerin comprise most vape juice bases. These promote the proper juice consistency, so nothing seeps through the tank.



Intense Menthol paired with deliciously refreshing hints of fruits combine into one of the best menthol flavors we have tried. Anyone that loves the flavors of Twist eliquids and wants a premium menthol flavor, should try this immediately.
Product Specifications


- Menthol & Fruit Flavors
Refreshing Fruit flavors and intense menthol, what more could one want? We've yet to encounter a more delectable combo.


- 0mg, 3mg, and 6mg Nicotine Strengths:
Whether you're a beginner or experienced, there's a concentration that'll suit your needs.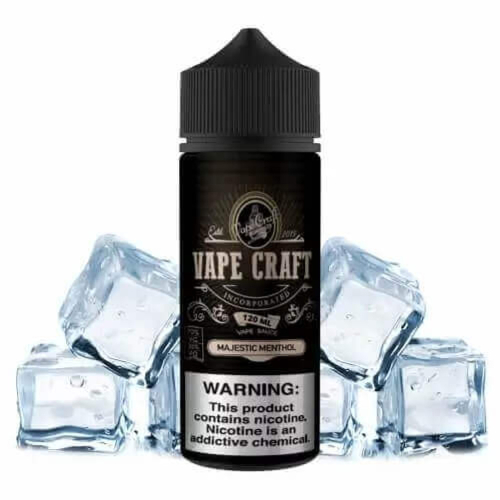 Vape Craft Inc - Majestic Menthol
Vape Craft's Majestic Menthol is one of the highest quality and intense straight menthol flavors on this list. The other flavors contain fruity elements, however Majestic Menthol by Vape Craft is a straight menthol eliquid that is meant to freeze you out and make you fall in love with its icey flavor.
Product Specifications


Flavor: Menthol, menthol with some menthol.
If you're looking for the best wholesale vape juice company on the planet, Vape Craft has all the brands available that your shop needs. Give them a call. or visit the link featured above.